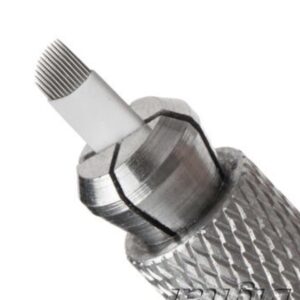 Microblading is a type of semi-permanent tattoo.  It's semi-permanent because the pigment is not placed as deeply in the skin as a typical body tattoo. Microblading is administered by creating a series of small strokes in the skin that results in a natural hair-like appearance. Microblading is a 2-part process: The first session is the foundation and the structure of the brows. The second is to perfect the little details after the initial healing process. The second session needs to happen within 6-8 weeks of the 1st session.
Microblading is also known as Featherstroke, Eyebrow Embroidery, Hair-stroke Eyebrows, Microstroke Brows, Micropigmentation, 3D-Brows, and probably various other names, but it's all the same thing. The names vary based on region or how fancy they want to make it sound. True story.
CAUTION – not all microbladers are created equal. Some are self-taught, some learned by watching YouTube, some learned online with no practical experience, while others have had extensive and multiple trainings. Not all microbladers are certified and/or licensed. There are a few different methods to microblading – some do NOT numb you, while others DO numb. Just make sure you do your homework before finding the right fit for you. Ask questions and choose wisely!